About the Catholica
Previous Posts
Toscana and the Refuges of Light
The Anti-Narnia
Ballad of the White Horse
Red and Black (at the OCP Cafe)
Dvorâk
Polyphonic Bliss
Best. Motet. Ever.
Syndication
News
Seattle Catholic
Catholic Exchange
Crunchy Catholicism
Being Catholic
Caelum Et Terra
Mystical Rose Herbals
Mary Gardens
Tridentine Tiramisú

St-Martin de Bréthencourt
Chartres Pilgrimage
(muchas fotos!)
Campos Photos
LMSEW Photos
Catholic Artists Today
Official Passion Site
Smallpax Guild
Nicholas Wilton Music
StudiObrien
Via Rosa Rosaries
Regina Doman
Poetry of Pavel Chichikov
Free Literature On the Web
Project Gutenberg
G.K. Chesterton
On Nothing
On Something
First and Last
Europe and the Faith
Belloc - Poetry
More Belloc Poetry
John Henry Newman
Christopher Dawson
Frederico García Lorca
Tolkien
Romantic &
Imaginative Theology
Council of Elrond
Anke Eissmann's Art
Angels and Elves
Christianity and Middle Earth
Coulombe Essays
Ardalambion
Gwaith i Pheddain
Arthrand Board
Crazy-Go-Nuts
Homestar Runner
Strindberg & Helium
SuperPope Anime
The Onion Dome
Blogs I Like

Alle Psalite
Andrew Cusack
Angry Twins
Cacciaguida
Church of the Masses
Curt Jester
Dappled Things
Devout Life
Dignare Me Laudare Te
Erik's Rants & Recipes
Flos Carmeli
Give Tongue
Hallowed Ground
The Idyllist
Inn at the End of the World
Jade's Trick
Jelly-Pinched Theatre
Old Oligarch
Open Book
Orthonormal Basis
Sancta Sanctis
Secret Agent Man
Shrine of the Holy Whapping
Video Meliora
Vivid
The Western Confucian
Zadok the Roman
Christendom Blogs
Charlemagne's Palace
The Christendom Commons
Meet Virginia
Destination: Order
Enchiridion
Fiddleback Fever
JulesArts
Midnight Radio
Nota Bene
¿Qué?
somewhatlost
This Red Rock
West of the Moon
Vestal Morons
Zucchero
<<
#
St. Blog's Parish
?
>>
Archives
Kiss me, I'm Catholic.
Thursday, June 30, 2005
Saints in the City
When we were walking through Lower Manhattan, we came upon this little church wedged between two huge skyscrapers. It turned out to be the shrine of St. Elizabeth Ann Seton. Inside, it was stunningly quiet after the the roar of construction and traffic outside, and I could see the branches of trees swaying and rustling through the stained glass over the altar. A beautiful place - a Eucharistic heart beating silently in the breast of Lower Manhattan.
|
Tuesday, June 28, 2005
Guess where I was!
I'm really really sorry about the long silence on this blog. There's been so much going on... anyway, I just got back from NEW YORK!!!!!!!
And why was I in New York?
*takes deep breath*
To hear my little sister sing in CARNEGIE HALL, that's why!!!!!!!!!!!
She sang with her choir. My favorite pieces were "Think On Me" (a heart-wrenching poem by Mary Queen of Scots) and "South Sami Song" (a piece by a Norwejian composer which involved some very intense drumming and conjured up visions of vikings rampaging around in their long ships. Very cool!)
We visited
the Cloisters
on the northern tip of Manhattan and saw the Unicorn Tapestries. Can you believe that this is New York?
My little sister
Me sitting by a window
Honeysuckle
|
Wednesday, June 08, 2005
Jack Chick Buys Garfield?
|
Sunday, June 05, 2005
"Then Roland blew his Olifant and really lost his mind!"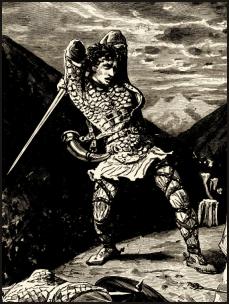 Erik Kielholtz should like this one...
From Fiddleback Fever, Bowman the Black's
Parody Songs of Roland
, to the tune of "The Battle of New Orleans" and "Gaston."
He blew that horn and the Muslims kept a-commin'
There wasn't quite as many as there was a while ago
He blew once more and they began a-runnin'
O'er Gibralter Rock and down to Morocco!
Must be seen to be believed.
|