About the Catholica
Previous Posts
Toscana and the Refuges of Light
The Anti-Narnia
Ballad of the White Horse
Red and Black (at the OCP Cafe)
Dvorâk
Polyphonic Bliss
Best. Motet. Ever.
Syndication
News
Seattle Catholic
Catholic Exchange
Crunchy Catholicism
Being Catholic
Caelum Et Terra
Mystical Rose Herbals
Mary Gardens
Tridentine Tiramisú

St-Martin de Bréthencourt
Chartres Pilgrimage
(muchas fotos!)
Campos Photos
LMSEW Photos
Catholic Artists Today
Official Passion Site
Smallpax Guild
Nicholas Wilton Music
StudiObrien
Via Rosa Rosaries
Regina Doman
Poetry of Pavel Chichikov
Free Literature On the Web
Project Gutenberg
G.K. Chesterton
On Nothing
On Something
First and Last
Europe and the Faith
Belloc - Poetry
More Belloc Poetry
John Henry Newman
Christopher Dawson
Frederico García Lorca
Tolkien
Romantic &
Imaginative Theology
Council of Elrond
Anke Eissmann's Art
Angels and Elves
Christianity and Middle Earth
Coulombe Essays
Ardalambion
Gwaith i Pheddain
Arthrand Board
Crazy-Go-Nuts
Homestar Runner
Strindberg & Helium
SuperPope Anime
The Onion Dome
Blogs I Like

Alle Psalite
Andrew Cusack
Angry Twins
Cacciaguida
Church of the Masses
Curt Jester
Dappled Things
Devout Life
Dignare Me Laudare Te
Erik's Rants & Recipes
Flos Carmeli
Give Tongue
Hallowed Ground
The Idyllist
Inn at the End of the World
Jade's Trick
Jelly-Pinched Theatre
Old Oligarch
Open Book
Orthonormal Basis
Sancta Sanctis
Secret Agent Man
Shrine of the Holy Whapping
Video Meliora
Vivid
The Western Confucian
Zadok the Roman
Christendom Blogs
Charlemagne's Palace
The Christendom Commons
Meet Virginia
Destination: Order
Enchiridion
Fiddleback Fever
JulesArts
Midnight Radio
Nota Bene
¿Qué?
somewhatlost
This Red Rock
West of the Moon
Vestal Morons
Zucchero
<<
#
St. Blog's Parish
?
>>
Archives
Kiss me, I'm Catholic.
Tuesday, May 17, 2005
Cloister Farrago
So I was reading this
cool book
about the Holy Grail, and I get to a section about the
monastery of San Juan de la Peña
, where the Holy Grail was sheltered from the Moors for a time. This monastery is amazing - Romanesque cloister as Navajo cliff dwelling? Check out the pictures:
That weird freestanding cloister sorta reminds me of the little garden by the Houses of Healing in Return of the King: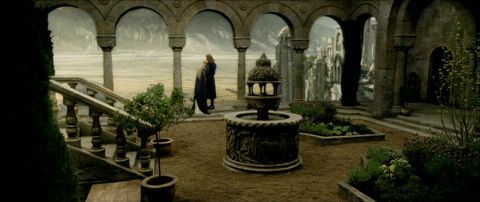 Which also reminds me: some movie reviewer described Minas Tirith as "a cross between Mont Saint Michel and the Hoover Dam." The Mont Saint Michel part is true enough:
Views from Mont Saint Michel cloister.
Pretty close, except for the pointed arches. Minas Tirith is definitely a Romanesque city. I've noticed something cool about the throne room in Minas Tirith, something that reinforces the idea that Aragorn's return would be analogous to the restoration of the Holy Roman Empire. The throne room looks suspiciously like the cathedral at Aachen which holds the throne of Charlemagne. See...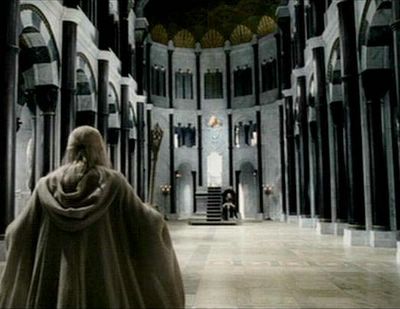 Throne room at Minas Tirith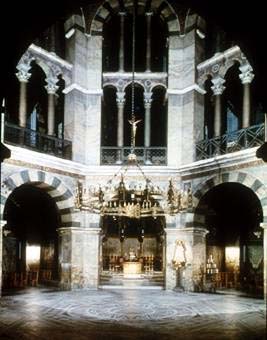 Cathedral of Aachen
***
Cool, no?
|